Custom 3pc-Black Satin
Regular price

€2.493,95 EUR

Regular price

Sale price

€2.493,95 EUR

Unit price

per
Shell Pack- 8x12 rack tom, 16x16 floor tom, 20x22 kick drum.  Black Satin with Flat Black Hardware and Die Cast Hoops.  Features our proprietary SBR Solid Brass Resonator Lugs, Double 45 Degree Edges, SSS Mounts on Rack Toms, and 100% Maple Shells.
50% deposit required to start production
10-12 week estimated build time
Share
When will I get my order?

Build Time
Most drum kit and snare drum orders have a 10-12 week average build time. High Gloss Lacquer finishes and Designer Series usually take 2-4 weeks longer.  All build times are estimates and not guaranteed. In stock items (Scymtek Cymbals) will be shipped within 1 or 2 business days.  You can call or email for stock availability and expected build time for your order.
Call or text- (909) 596-5200
Email- info@spaundrums.com 
Contact us to customize this

Most items can be customized to your preference. Just hit the CONTACT US button in the heading and let us know what you would like to change.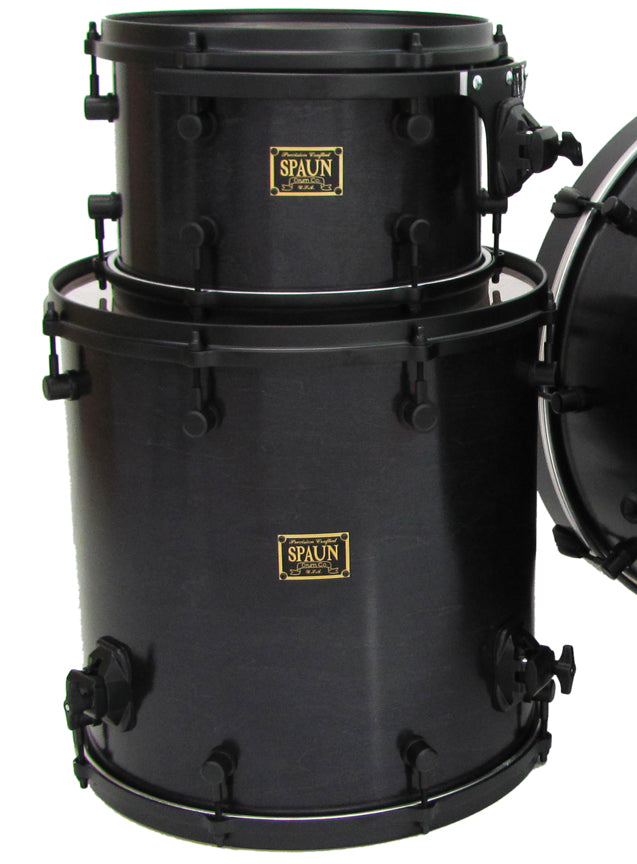 There's Something About A Spaun ...
I've been a professional drummer for nearly 4 decades and I can't tell you how many times I've built, rebuilt, tuned and refined a custom Spaun kit in my head. I've had it scoped out, in my cart and a hand hovering over the "BUY NOW" button more times than I can count. Well, this year the planets aligned, and I pulled the trigger. All I can say is WOW. First, Brian Spaun could not have been nicer, more attentive, or responsive during the process. Yes, everything takes longer these days, but quality – REAL quality - should. Brian made sure I was informed throughout, and I think he was as excited to send me my kit as I was to get it.
OK, I have to say, before even pulling a stick out of the bag, these drums are gorgeous. The satin finish is darkly beautiful and lets the natural wood grain show through for a rich but subtle look. The black hardware lays perfectly into the shells and let's the stunning wood do the work visually.
My 8x12 rack tom and 16x16 floor tom have a thick, warm sound that resonates a balanced and controlled tone even with the heads just slightly tightened. I prefer a boomy, low end sound from my toms, and these drums allow so much control that I can dial it in easily.
Ah, but the star of this show is the kick drum. It's an absolute cannon and as responsive as an Aston Martin. With just slight tension on the resonant head, an EQ Pad muffler, and medium tension on the batter head I was able to make this monster absolutely growl. It's a punchy, BIG sound but without any troublesome overring. The lug system is built for precision, and I'm sure you could dial this thing in like a Swiss watch, but this thing is crafted like a fine wine … you make it in the vineyard and try not to f$%k it up in the winery.
In summary, I love these drums. And, if I ever get a chance to meet my 20 year old self, I'm giving him Hell for not buying them back then!
Thanks so much for your review and your patronage Allan! I know your 'in depth' dive into the look and sound of your Spaun kit took a lot of effort and we really appreciate you taking the time to do. Thanks again!
-Brian Spaun