Designer 4pc-Mahogany w-Ebony Ivory
Regular price

€3.525,95 EUR

Regular price

Sale price

€3.525,95 EUR

Unit price

per
Shell Configuration is 5ply Mahogany with Maple Reinforcement Rings
Shell Pack- 10x13 rack tom, 16x16 floor tom, 16x18 floor tom, 16x22 kick drum.  Beautiful Exotic Ebony Ivory with Natural Satin Lacquer with Chrome Hardware.  Features our proprietary SBR Solid Brass Resonator Lugs, Classic Rounded Bearing Edges, SSS Mounts on Rack Toms.
Mahogany- A hard, medium-heavy wood with fine texture and wavy grain. Good attack, a well defined note, and very rich in low frequencies.  Vibrant and resonant with lots of harmonics and slightly reduced highs.  Mahogany produces a lower fundamental note than maple.

Maple Reinforcement Rings- the addition of reinforcement rings adds attack and punch to the initial strike of the drum.  They also reduce sustain.
Deposit required to start production
12-14 week estimated build time
Share
When will I get my order?

Build Time
Most drum kit and snare drum orders have a 10-12 week average build time. High Gloss Lacquer finishes and Designer Series usually take 2-4 weeks longer.  All build times are estimates and not guaranteed. In stock items (Scymtek Cymbals) will be shipped within 1 or 2 business days.  You can call or email for stock availability and expected build time for your order.
Call or text- (909) 596-5200
Email- info@spaundrums.com 
Contact us to customize this

Most items can be customized to your preference. Just hit the CONTACT US button in the heading and let us know what you would like to change.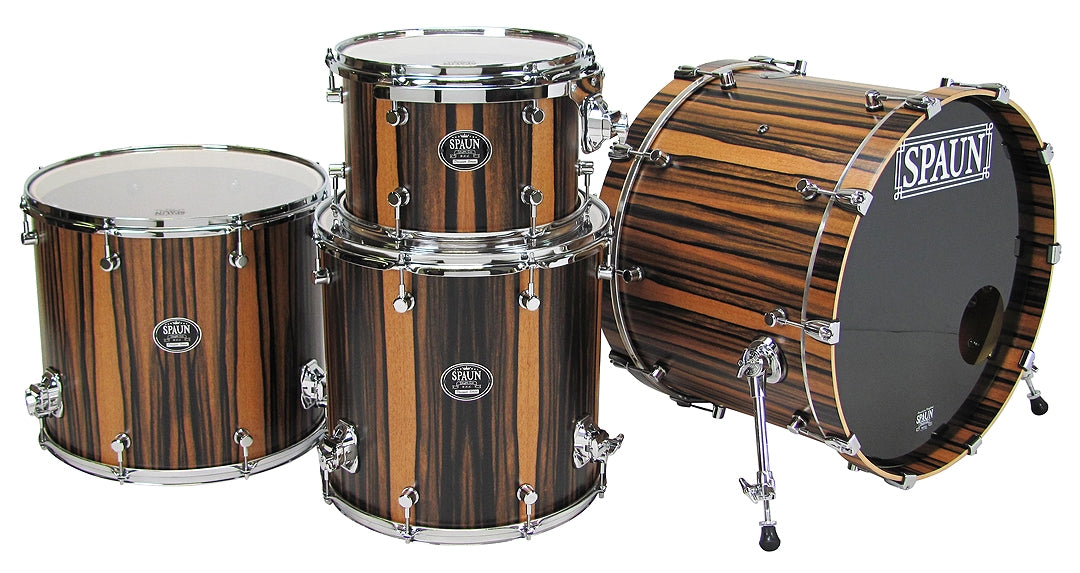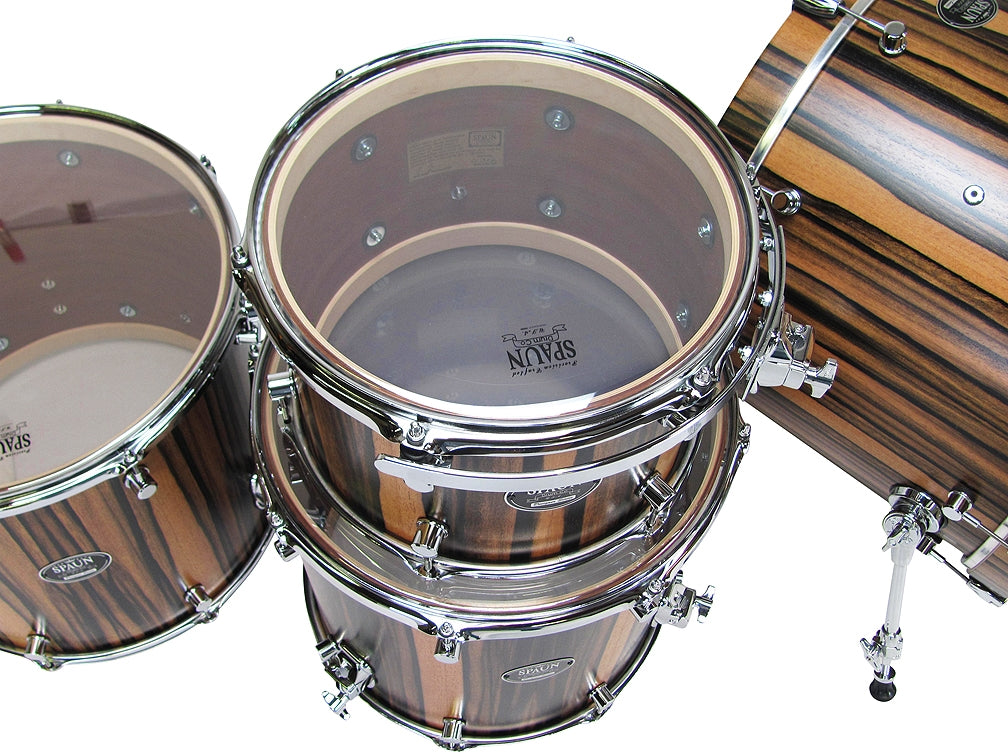 Amazing Build and Amazing service!
I have been in the market for a new kit for a while and while I was looking for something of value, I was also looking for an amazing kit that I could truly call my own. I tried a number of folks. Noble and Cooley, SJC, C&C, Barton, etc and with all of them, I had a hard time getting through to get the answers I needed. With Spaun, I spoke with Brian directly on my first phone call and not only was he professional but he shared my desire for the end result. He was informative, helpful and provided a great insight on the build from start to finish. I couldn't be happier with the service.
As for the product, ZERO disappointments. The build and sound is everything you can expect. These drums sing! Great tuning range and kick has beautiful warm thump that you want. I am so used to getting cheap stock heads from other on the shelf brands that it totally went past my head that the kit from Spaun came with an Evans EMAD batter for the kick with a branded ported reso. The finish is spot on! The pics do not quite do it service because in the light the grain REALLY pops. I think I spent a good hour looking at her as I was unpacking it for the first time. Beautiful warm tones on the toms and perfect sustain for what I was looking for. The drums are VERY responsive which is perfect for Remo coated single ply or lighter dual ply heads that I normally use.
As for value....Its a premium/custom kit! You are going to spend some money but the easy4pay makes it so easy to finally get that perfect kit. So easy in fact, I am already looking into a snare and maybe a more simplified studio kit down the line. In terms of value, if you considered something comparable (DW Collectors, Noble&Cooley, etc), you would still spend more. Also when you consider the level of service Brian provides, he made this an absolute pleasure, start to finish. I couldn't be happier!
End note: The Designer series is a smash hit for me! Providing you have a good fundamental knowledge of wood species and their character, you can truly build a kit just for you that can serve you a lifetime. Whatever you don't know, Brian will be happy to explain and make a good call for your preferred sound pallet (For instance, I gave him some creative licensing on the bearing edges and he nailed it.). Brian makes the experience truly a personal one and delivered above and beyond! Thank you again, sir! We will DEFINATELY be doing business again!